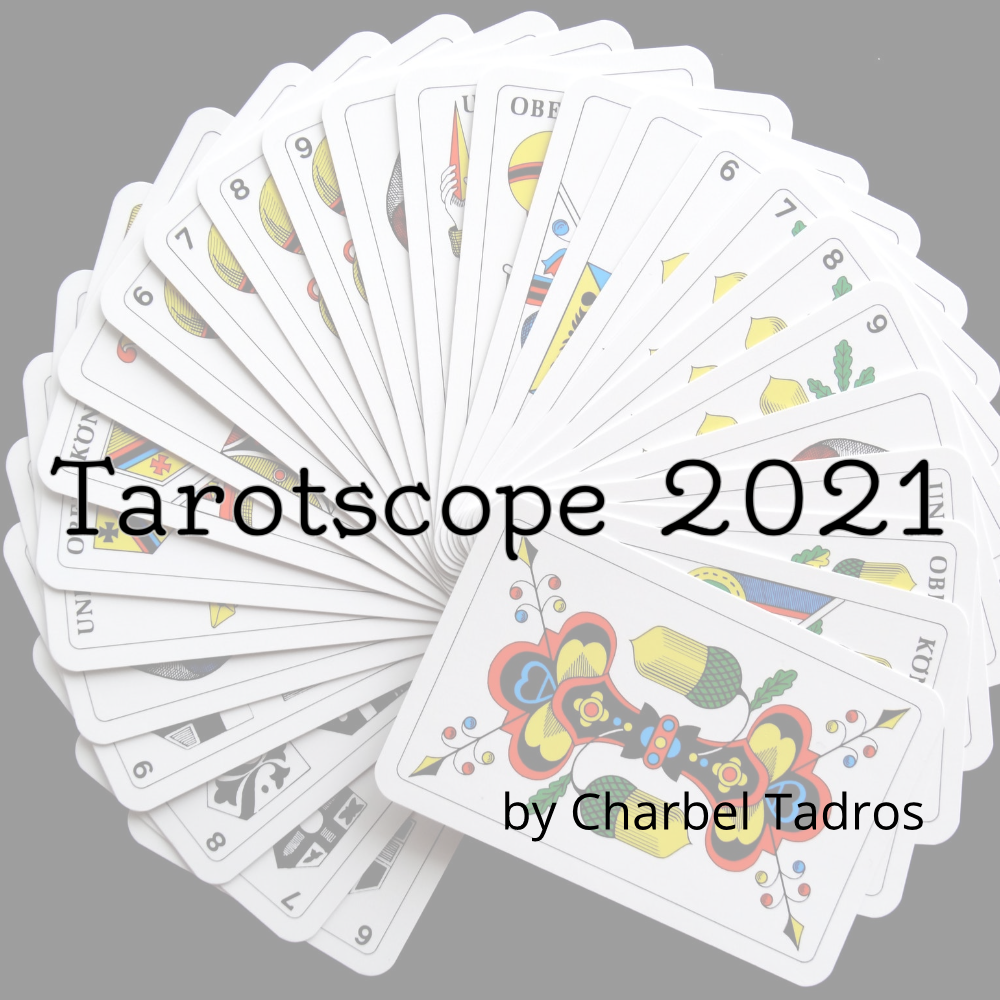 Another year, another forecast… This year, in addition to all the Tarot Horoscopes now being called Tarotscopes, I have decided to try my hand at forcasting a general theme for the world in 2021, and here's how it goes:
The hardships of 2020 have been borne well by most major governments; however, February will not be the time for temperance as important choices must be made before the oncoming wave in March. April will see many people contemplating spiritual enlightenment around the Atlantic; however, this will lead to many people following strange cults and lopsided wisdoms from the East. True wisdom will manifest itself regarding the issue around September and will awaken many people against taking the lonely road. A European government's mischief in November will not go unnoticed, but the one who replaces it in December will have great chances of victory.
In case you haven't checked last year's horoscope yet, you can still check it here and learn some valuable lessons you may have missed. 
Aries (Mar 21 – Apr 19)
The main theme for Aries' 2021 is betrayal; some to him and some by him. A failed attempt at a coup in January will send Aries on a downward spiral. A after the departure of some major supporters in February, another betrayal is set to happen in March; however, this is a betrayal done unto Aries, and it will send him on a journey of self-redefinition, which may cause a brief phase of depression around June. This will be followed by an upward trend between July and December where Aries replenishes his followers and sets about on a new attempt at regaining power. Aries needs to avoid a potential romantic relationship in September for it will be detrimental to his efforts; however, a more beneficial match is set to happen around November. Aries will need to learn to give more freely from himself in order to bring his life around and potentially reach his objectives.
Taurus (Apr 20 – May 20)
Though Taurus' financial woes seem to be at their highest in January, he will be able to regain balance and even get himself back into the positive between February and March; however, he needs to be careful not to do this at the expense of personal relationships, for this will seem more pronounced in April. A new mission will start making an appearance in May, and Taurus will need to make a clear-cut decision in its regard. Walking the narrow road between July and August will be important, and avoiding to get stuck to childish fantasies will help Taurus to not get bogged down. The last quarter of 2021 will be more about self-improvement than friendships. Focusing on family and the closest circle will be important between November and December, where Taurus will need to learn how to give of himself and not from his pockets.
Gemini (May 21 – June 20)
Gemini's 2021 is not the year to get into relationships, although there will be at least two potential ones in February and December. Gemini's year starts with a detrimental relationship which is quickly replaced by a slightly better one in February; unfortunately, that relationship will develop too quickly and will face fierce family resistance until it eventually ends in hidden betrayal around July. Gemini will learn to face his fears around September and will probably get a promotion around November; however, he will need to be careful of any romantic relationships in December for it will not be entirely selfless.
Cancer (Jun 21 – Jul 22)
Cancer's 2021 will start rather quietly in January, but it will quickly devolve into a familial conflict in February. During the conflict, Cancer has to remain tempered and avoid taking sides until April. While the solution he proposes in April will be beneficial for everyone, it will impose many new responsibilities on Cancer, which will eventually lead to a break down around July. This will happen during a period of important rebirth which starts in June and lasts till the end of the year; however, it will be dotted with periods of loneliness and a feeling of betrayal towards October. Despite that, Cancer will regain balance in November and will reach a better position of admiration in December; however, he needs to be careful from his admirers for not all of them have the best intentions.
Leo (Jul 23 – Aug 22)
The illusion of balance that Leo plans to portray in 2021 will begin to crumble as he faces family conflicts in February, relationship trouble in March, legal trouble in April, and financial burdens in May. Though the beginning of the year seems particularly tough for Leo, he will set about on a new endeavour between June and July. Though the legal troubles will come back to haunt him in August, a period of reflection will help him out of them between September and October, though at the expense of his illusive strength, for he is seen as fickle and unreliable; however, a quick-witted venture on his part in December will bring him the attention he has been craving.
Virgo (Aug 23 – Sep 22)
The burden that Virgo is bearing in January will be his source of strength and power for the remainder of the year; however, there will be many temptations to overthink about the burden and to share it with others. Virgo's 2021 is about endurance and self-empowerment, as he needs to forge through difficulties and overcome any blockages. This will enable him to emerge victorious in October. Virgo needs to keep holding on through many attempts to break him down or to get him to not take sides; however, taking the side that seems right is the way to go, especially in August. And though November seems to be the end of all the hard work, it is actually a period of rejuvenation which will lead to a much better version in December.
Libra (Sep 23 – Oct 22)
Libra's 2021 is a year of spirituality and self-discovery. Although his ego may have tricked him to believing that his cheating has been unnoticed, a new relationship will quickly send  him on a new journey which starts with a ritual of devotion and a prayer for self-betterment. Libra will start facing his karma in May, he will quickly learn the benefit of being with himself and how to give selflessly between June and August. Libra should be careful not to delve too deep or too quickly into the spiritual concepts of self-destruction from September to November, as he is not yet ready for that level of spiritual exercise; however, remaining with one foot in each world will be most beneficial in withstanding the storm arriving in December.
Scorpio (Oct 23 – Nov 21)
The power that Scorpio amassed in 2020 will be his main strength in 2021 despite his obvious regret at having claimed that power. As Scorpio marches to battle in February, his will find that his road will be blocked in March, and for good reason. Scorpio will need to avoid being self-centred, yet leave behind his old, yet negative, acquaintances. He will need to face himself and understand his own faults between July and September where something unexpected will send him chasing an unattainable dream. Scorpio will need to be careful about overspending on achieving this illusive dream to avoid major head and heartache.
Sagittarius (Nov 22 – Dec 21)
Sagittarius's 2021 starts with an almost perfect relationship which is quickly destroyed between February and April through being overly needy, not being generous enough, and family issues. This will make Sagittarius feel trapped in an endless battle until the relationship eventually ends in July due to insurmountable differences. Sagittarius will need a couple of month of self-imposed isolation which needs to end around October before he starts becoming too distant from his friends and acquaintances who will play an instrumental role in helping him redefine himself and avoid becoming overly careless.
Capricorn (Dec 22 – Jan 19)
Capricorn seems to be on an extended vacation until March 2021 when he starts to feel too distant from his friends. That's how he realises that he is riding on a fortune whose benefits he starts reaping between May and June. However, Capricorn needs to remain true to himself and to his friends who are protecting him from many dangers which will be clear around October. Unfortunately, while the judgement is true, justice will not be served and Capricorn will need to keep giving of himself, for that's what keeps his friends close to him.
Aquarius (Jan 20 – Feb 18)
Aquarius needs to start getting out of his dream world in 2021 and definitely before April. Despite all the thinking and over-thinking, what will happen then will be out of his hands; however, he will learn to deal with it and actually thrive on it by June. Eventually, Aquarius will learn the true power of his gift around September and October as he strives to share it with the world. As much as it's tempting for Aquarius to keep it for himself, he needs to be able to keep a balance between what he gives and what he keeps by December.
Pisces (Feb 19 – Mar 20)
2021 for Pisces is more about giving of himself and less about being by himself. As he learns that trend and starts following it by April, he will start reaping its rewards around September. Until then, Pisces needs to learn to trust his close family and weed through his friends while still following the flow. A new and very positive relationship will manifest itself around November despite Pisces starting to feel weaker and less in control.
Originally posted on December 23, 2020 @ 6:47 am