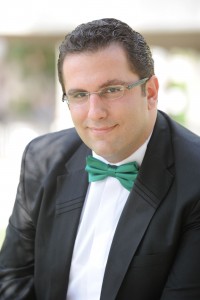 Charbel Marcellino Tadros was born on July 16, 1988. He is an avid reader and has been writing since a very young age. He holds a BA in English Pedagogy from the Lebanese University and a MA in Education with an emphasis on Special Education from Notre Dame University. He has worked as a school improvement consultant, an English coordinator and instructor at La Sagesse University, a teacher trainer at the Lebanese University, and as a teacher and program coordinator in many schools. He is currently the Media Manager at Oz Arab Media, a leading online news platform covering Arab, Australian, and International news, and runs his own website building and digital marketing business called Brandplus Solutions. 
In 2010, Charbel published his first novel, "The Destined Journey", which turned out to be a success in Lebanon and the world. Later on, he published a spiritual poetry collection entitled "When the Spirit Speaks" followed by "Leviathan", the first part of his "War of the Heavens" series. This was followed by "Aboard the S.S.Vanish", the first part of the "Heaven's Rascals" series of children's novels and "7 Secrets to Get your Prayers Answered", a spiritual guidebook for kids and adults. Most recently, he published "The Divine Diaries" and the instant success book "Developing the Spirit Personality".
Charbel Tadros is a founding member of many non-profit organizations. He was a charter member in the Lions Clubs in Lebanon and is currently a charter member and immediate past president of the Sydney Autism Community Lions Club. He is also an associate member of the Lions Club of Canterbury-Bankstown and the president of AIM Association, the NGO that runs the AIM Business Awards. Charbel has been in many local and international interviews talking about his earlier publications and has lectured about many topics including spirituality, teaching, special education and career planning. Moreover, Charbel was a Tedx speaker at TEDxNDU's main event.