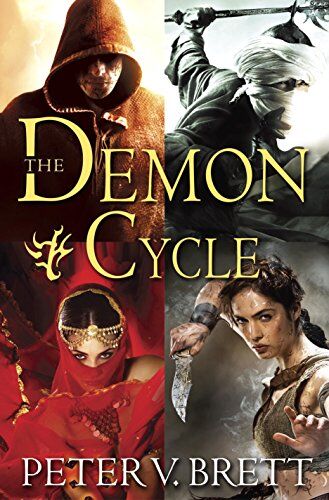 Fantasy lovers will find a treasure trove of adventure in the superbly designed series of The Demon Cycle by Peter V. Brett. Not only will you be able to immerse yourself in this series for the five major books and quite a few more minor ones, but you will also enjoy them for quite a while as most books in this series are quite lengthy.
In this series, we have quite a few major characters such as Arlen Bales (aka the warded man), Leesha Paper, Rojer Inn, Renna Tanner, Ahmann Jardir, Inevera and quite a few other extremely well designed characters.
The story is set in a world where demons – referred to as Corelings in Thesan and the Alagai in Krasian – materialise from the core at night in order to hunt and devour humans. Even though this used to happen before the coming of the first deliverer, it stopped for a few hundred years after his intervention, and then it started to happen again. During this time, most of the wards used to fight and protect against the demons have been lost, with only a few protective ones remaining. As such, most humans have taken to the defense by warding their homes and hiding out during the night in Thesa. However, on the other side of the world, in the Desert Spear, Krasians have kept the tradition of Alagai Sharak or Demon War alive by trapping and killing demons every night at a high cost due to their lack of battle wards.
And this is where Arlen Bales comes in. He is a curious, yet brave, youth who dreams of a day where humans can walk outside day and night. After he runs away from his cowardly father and travels through the demon infested night, he finds refuge in a major Thesan city where he trains in warding in order to achieve his dream of becoming a messenger.
Peter V. Brett does an excellent job throughout The Demon Cycle, especially when it comes to character development. Many interesting fantasy concepts are found throughout the series such as the variety of demons available, the use of demon bone magic and other great things that make this series one of the best out there. The only thing I did not quite appreciate was the existence of minor novels (1.5, etc…) where some characters were introduced and then were thrown into the major novels without proper introductions.
For fantasy lovers, The Demon Cycle by Peter V. Brett is a definite must read.
Originally posted on August 29, 2020 @ 10:43 pm