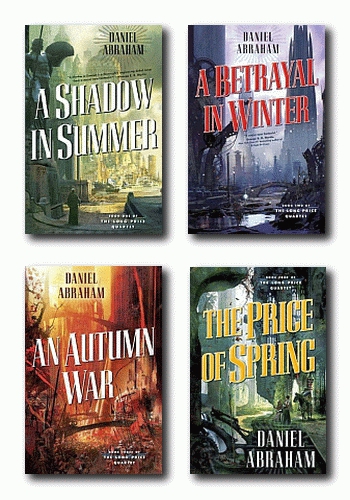 Merging politics, romance, drama, and war with a sprinkle of magic on top, Daniel Abraham captivates the reader with his series of four books called "The Long Price Quartet".
The tale is set in a world where superhuman powers are embodied in mini-god-like creatures called the Andat. These Andat are summoned by poets who are then expected to hold them for the rest of their lives and pass them on to other poets before they die. These magicians are called poets for the simple reason that their sole job is to describe a certain thought or activity so perfectly which gives them ultimate control over it in the real world through their binding of the Andat.
The story is mainly centered around two frenemies: Otah, the sixth son of a Khai (Ruler of a city) who is sent to become a poet so as not to be killed for the rulership by his brothers but eventually decides to try his luck in the real world and leaves his training; and Maati, a poet who completes his training and wants to bind an Andat of his own.
Throughout the four books, the relationship between Maati and Otah changes and changes again while more characters join the fray such as Liat Otah's ex-lover and Maati's current one, Nayiit, Otah's son who believes he is Maati's, Eiah and Danat, Otah's children, and many other well designed characters.
What I liked most about this quartet is the novel idea of magic in the Andat. It is somewhat unique and offers a very nice perspective on things. I also appreciated the character development and the detailed interplay between characters. Moreover, in a story that spans decades, it is sometimes difficult to see characters growing older and older; however, Abrahams was quite able of making this very easy and pleasant for the reader. What I didn't like about the series was that it's just another tale about the end of magic in the world, which isn't fair for a fantasy reader. I wanted more magic than drama, but all in all it was quite an enjoyable read.
Originally posted on November 1, 2020 @ 9:43 am