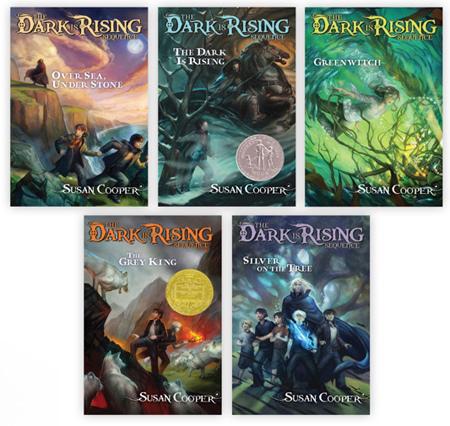 In a blend of Arthurian Legend, Celtic and other mythologies, Susan Cooper brings forth the ultimate face off between the light and the dark forces. With a variety of characters including the three Drew children, Will Stanton (who appears in the second installment), Great Uncle Merry (aka Merriman Lyon) and Bran Davies (who appears in later parts), the author starts an interesting story with the three Drew children, helped by their Great Uncle Merry, defying the forces of the dark and recovering King Arthur's Holy Grail, which sets in motion the realization of a series of prophecies leading to the recovery of a number of artifacts needed for the final battle.
While some parts of the sequence were delightful reads, the sequence itself had its ups and downs. It starts off at an ok point and then improves throughout the second, third and forth installments, then drops off somewhat at the fifth and last installment.
To start off with the strengths of this sequence, the author has undoubtedly developed a variety of interesting characters with their pros and cons, especially Bran Davies. Additionally, Cooper has crafted very interesting stories and events and definitely knows her mythologies and Arthurian legends, which she was able to nicely weave together.
On the other hand, although the author has a great descriptive style in writing, it sometimes became a bit too overwhelming, especially in the last installment which had more description than action. Moreover, while the characters were well developed, at crucial moments, their mental processes were not given proper weight, especially John Rowland's dilemma in the final installment. For the target audience of this series, it felt as if the author was rather confused about how to properly format the writing style and events in a way to best address them; sometimes, the book seemed childish, other times, it felt too mature.
Despite the author's ups and downs in style, The Dark is Rising sequence is a very interesting read that I would recommend for people looking for some adventure in the UK. It is also worth pointing out that the second installment of the series has been adapted to the big screen in 2007 in a movie entitled "The Seeker: The Dark is Rising."
Originally posted on October 1, 2020 @ 9:34 am