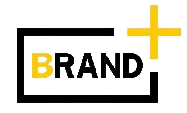 Let's face it; nowadays, if you want to share something with people and get clients for your business, you absolutely must have a website. Even if you don't want to get clients and just want to look professional, you still need a website. However, creating a website for most people is a daunting task that many decide to hand it over to the "professionals" and pay hefty annual amounts for it as well. If you have a bit of patience, a bit of curiosity, and some free time, you can just do it yourself without any coding whatsoever.
Some terms to know
Before venturing on your quest to build your own website, you need to know a few key terms that you will hear a lot:
Domain: A domain or domain name is, quite simply, your website's address. It's whatever your visitors have to type in the browser to reach your website like www.charbeltadros.com, for example.

Hosting: Hosting is where your website's files reside in cyberspace. While the domain name is the door, hosting is the actual house.
Server: A server is a physical device which stores files and allows access to them based on the user's needs. The main difference between it and your computer's hard drive which also stores data is that it is always online. When you purchase hosting, you are actually buying space on the server.

WordPress: WordPress is one of the most famous website building engines. It's like a software that you install on your hosting account to help you more easily build a website (without having to code everything). In wordpress, there are some terms we also need to be aware of:

Theme: It is the main appearance of your website to visitors which includes text and photo placement, color schemes, etc… You will find thousands of great free themes to use on wordpress.

Plugin: From the word, it is something you "plug in" your wordpress installation to give it extra functions. For example, if you need to add a shopping cart on your website, you would get a plugin to do that.
Widgets: They are small applications that you can add to your wordpress installation to perform different tasks such as display announcements or other small activities.

Getting down to business
Setting up the groundwork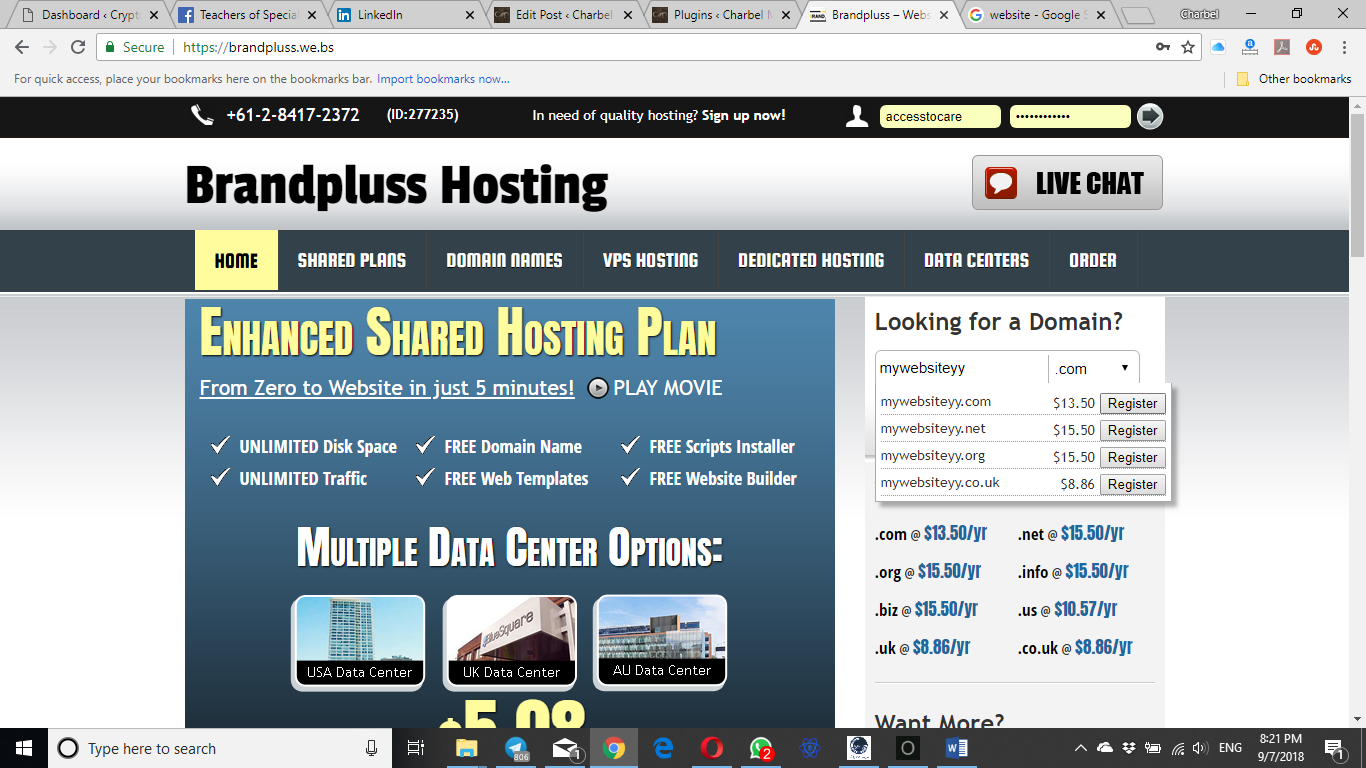 Before starting with anything, we first need to decide what our website will do. After deciding on that and coming up with the best name we need to see whether this domain is taken or not. This is the easy part; just head over to a domain registrar like https://brandpluss.we.bs (recommended) and use the domain search tool to try and find your domain. While searching, the domain search tool will suggest different domain names and tell you whether this domain name is available or not. If it tells you to "register" the domain, it means that it's free. If it asks you to transfer, then it means that someone else already owns it.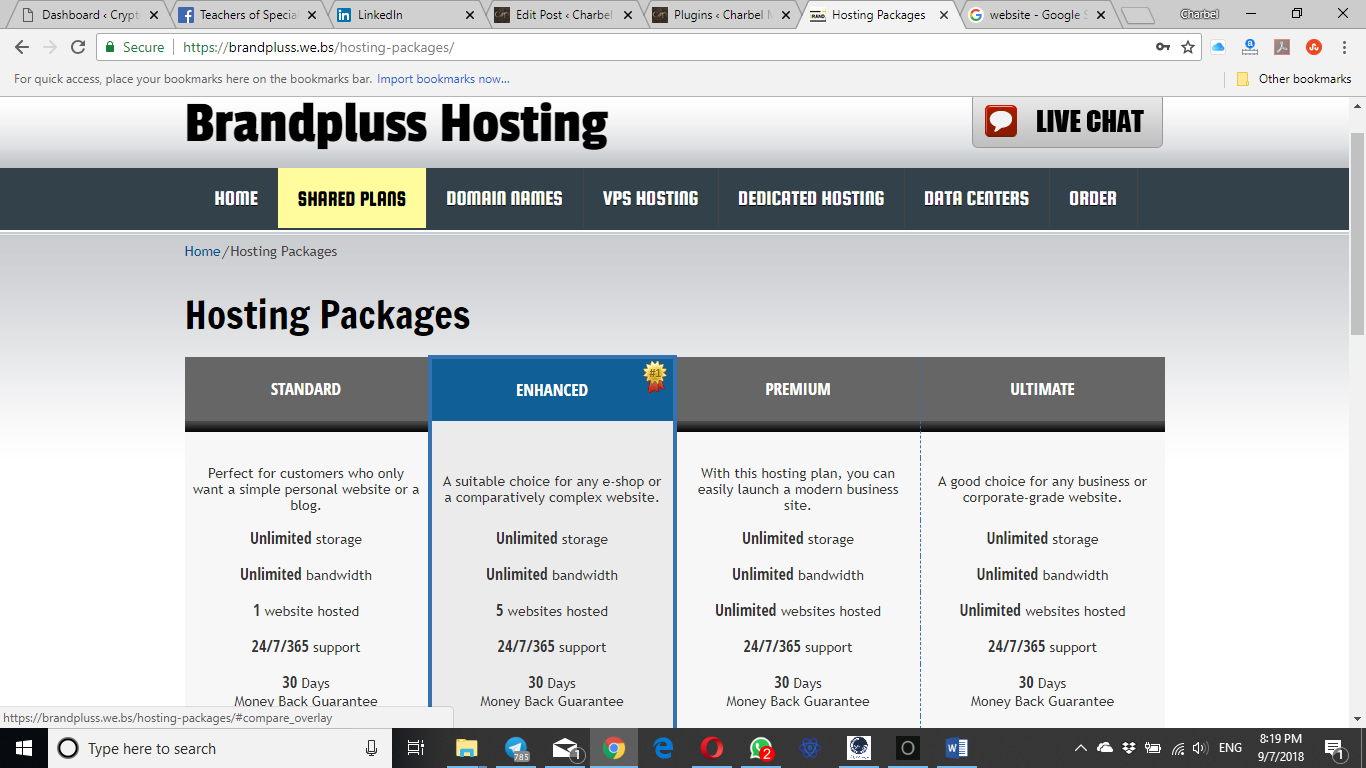 After going through the search for the domain and making sure it is available, don't register it just yet because there is a chance you would be able to get a bundle deal which includes a free or discounted domain with your hosting account. When you are looking for a hosting account, you will find many options. The most important things to look for when doing that is how much storage it offers you (a few gigs are more than enough for a simple website), how many websites can be hosted on it (depending on how many websites you plan to create), Bandwidth which is most simply explained as the server's speed, website builders available (for this article, make sure that they have wordpress; Brandpluss does), and amount of e-mails you get with your website address. There are more things to look at, but for now, comparing these is more than enough to get you started.
Once you have found your hosting plan and purchased it along with your domain, you will have to wait for a bit (usually around an hour) for things to be installed and activated. On Brandpluss, for example, you can ask them to pre-install wordpress for you so that when things are ready, you won't need to bother with installing it yourself. In case you didn't get wordpress installed from the beginning, read the next section to see how to do it.
Installing WordPress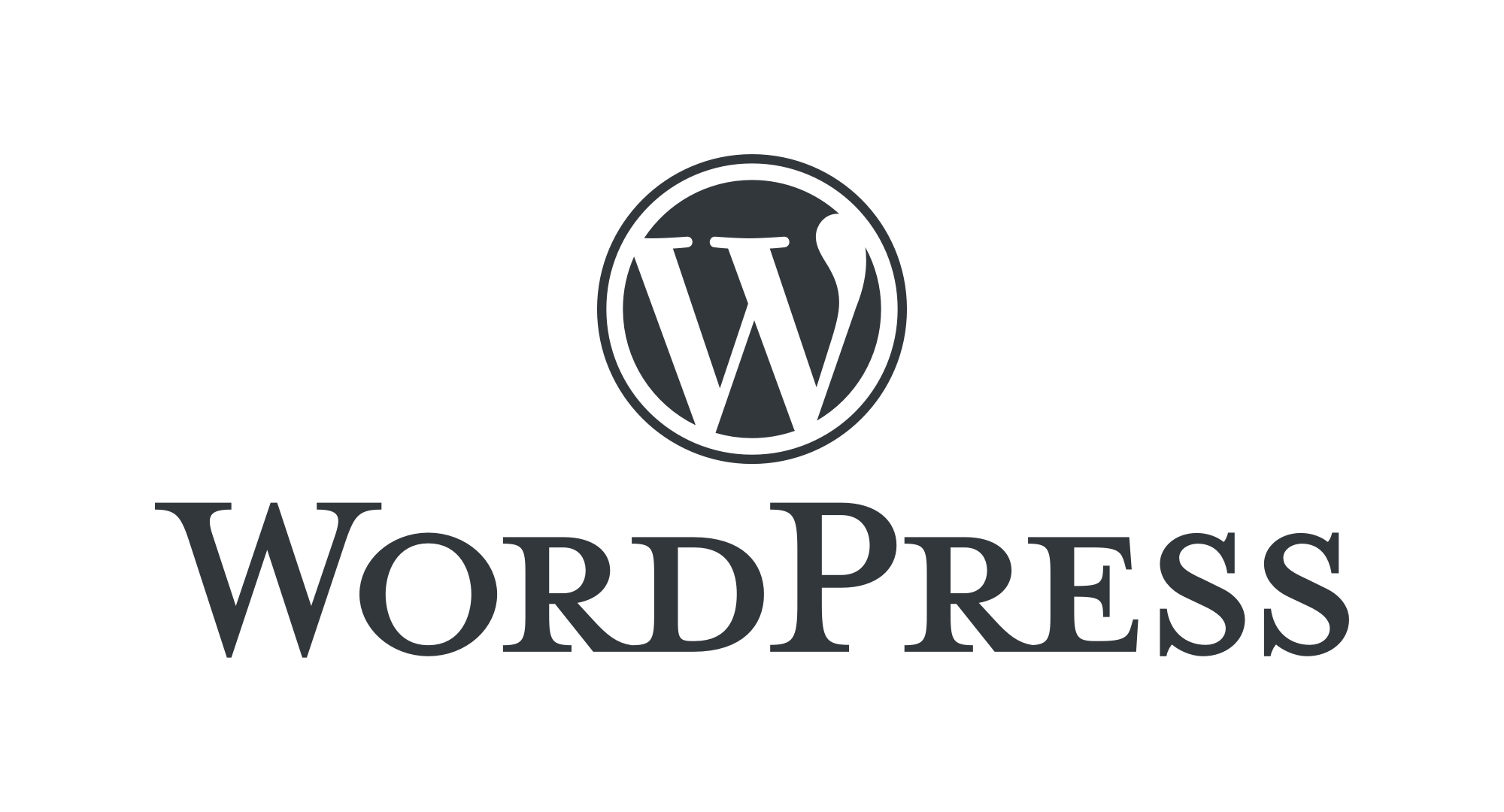 Once your hosting account is created and you are logged in to your control panel, just go to application installer, choose the website, and choose wordpress. It will then prompt you to fill in various details to create a username and password, and the system will do the rest. Once it is installed, usually in a few minutes, you will get by e-mail and on screen the link through which to log in to the wordpress installation on your site and start working; usually it's yourwebsite.com/wp-login.php.
And the building begins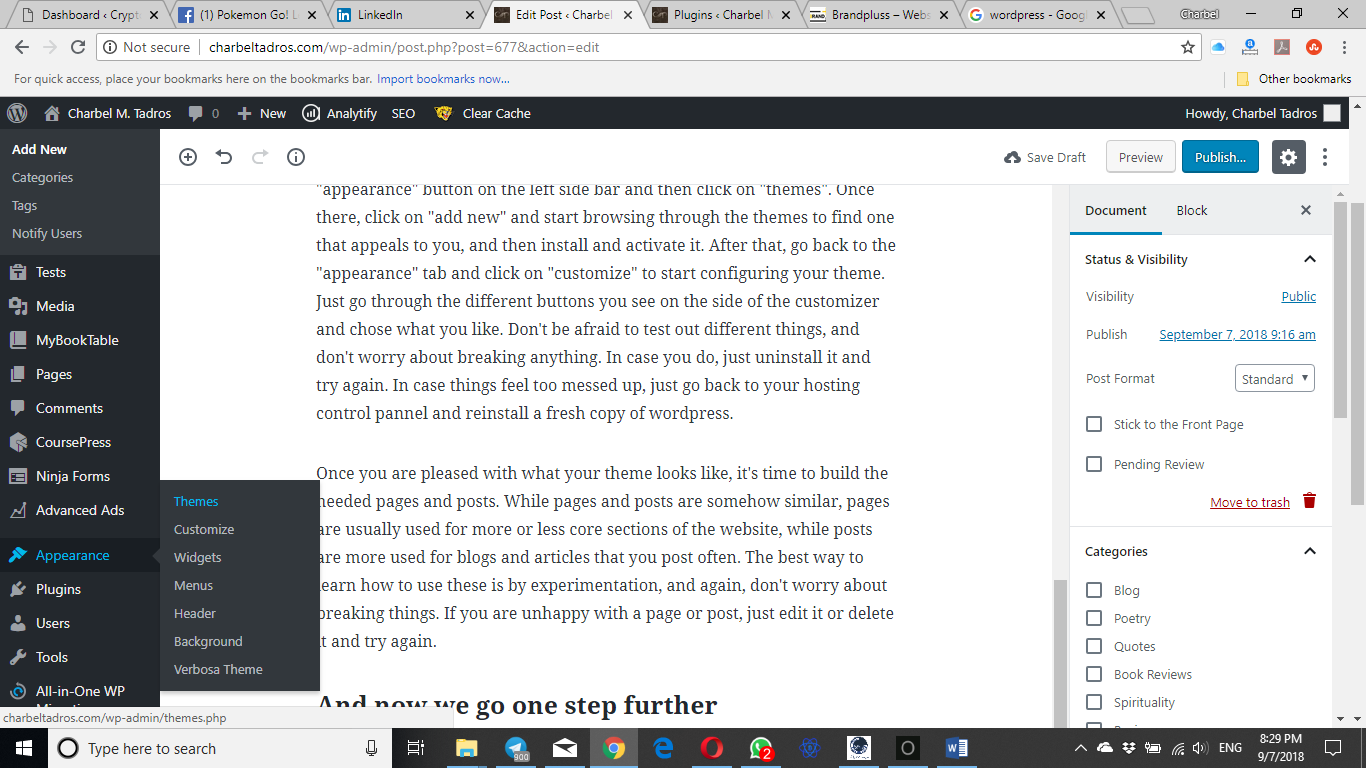 After logging in to your wordpress installation, we need to start building, and the best place to start is by installing a theme. So, head over to the "appearance" button on the left side bar and then click on "themes". Once there, click on "add new" and start browsing through the themes to find one that appeals to you, and then install and activate it. After that, go back to the "appearance" tab and click on "customize" to start configuring your theme. Just go through the different buttons you see on the side of the customizer and chose what you like. Don't be afraid to test out different things, and don't worry about breaking anything. In case you do, just uninstall it and try again. In case things feel too messed up, just go back to your hosting control pannel and reinstall a fresh copy of wordpress.
Once you are pleased with what your theme looks like, it's time to build the needed pages and posts. While pages and posts are somehow similar, pages are usually used for more or less core sections of the website, while posts are more used for blogs and articles that you post often. The best way to learn how to use these is by experimentation, and again, don't worry about breaking things. If you are unhappy with a page or post, just edit it or delete it and try again.
And now we go one step further
Now that you have taken your time in experimenting by using different themes, pages and posts, it's time to forge on with more complicated functionalities of the website and use plugins. WordPress has thousands of plugins that can do pretty much everything imaginable online. You can create photo albums, add ratings, activate social comments, add live chat features and pretty much anything else you would like. If you can think it, there's probably a plugin for it.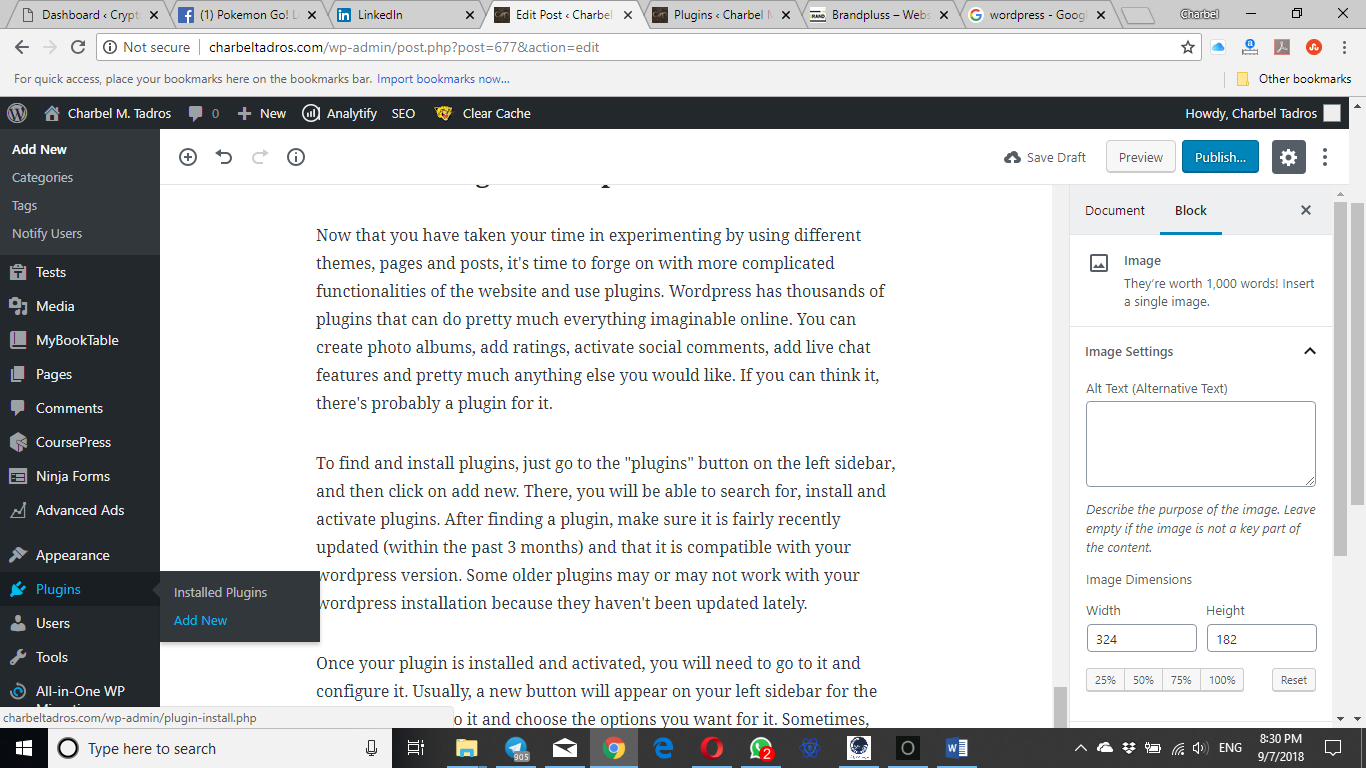 To find and install plugins, just go to the "plugins" button on the left sidebar, and then click on add new. There, you will be able to search for, install and activate plugins. After finding a plugin, make sure it is fairly recently updated (within the past 3 months) and that it is compatible with your wordpress version. Some older plugins may or may not work with your wordpress installation because they haven't been updated lately.
Once your plugin is installed and activated, you will need to go to it and configure it. Usually, a new button will appear on your left sidebar for the plugin, so just go to it and choose the options you want for it. Sometimes, depending on the plugin's function, it may appear under other major tabs such as "settings" or "tools". If you can't find where the plugin was installed, just go to the "plugins" button and choose installed plugins. Then, find the plugin you installed, click on details and see how to make it work. Some plugins may not have any buttons at all and may not need to be configured.
And that's about it
Well not really; but there is simply so much that you can do with wordpress that we would need volumes to explain them all. But as I said in the beginnning, one of the main things you need to have alongside time and patience is curiosity. Always remember that Google is your friend; whenever you can't find a solution to something, just google it. Alternatively, you can leave a message here and I can try to help you.
And if you are ready to start your website now, head over to https://brandpluss.we.bs and use the code CHARBEL to get a 10% discount on your domain and hosting package.
Originally posted on May 6, 2020 @ 5:07 am