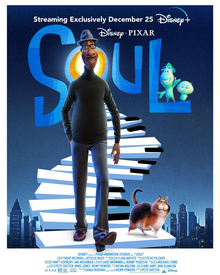 It is extremely rare for a movie to make it to my top list, even if it's a Disney movie (which I love); however, Soul managed to make its way there with exceeding ease. Not only does Disney's Soul have a very positive message, but it also explores deep spiritual matters in a very simple and child-friendly way.
Soul follows the story of Joe Gardner, a Middle School music teacher who seems to have hit the glass ceiling of his life; however, he suddenly gets a very good chance at an audition with a famous musician by the name of Dorothea Williams. After his successful trial, he leaves the pub in a very good mood and ends up falling to his death in an uncovered manhole. Immediately, he finds himself as a soul on a stair going towards the great beyond. In fear, he starts running backwards until he accidentally falls into the great before, where unborn souls are trained to find their spark. In an attempt to regain his life on earth, he meets 22, a soul that hasn't been able to find his spark yet in a long time. While they work together to send Joe back to earth, both get accidentally sent back together.
While Soul is a great movie per se, I would not recommend that you watch it with your kids the first time around because you will not enjoy it as you should. Instead, I would advise you to watch it all by yourself so that, when you watch it with your kids, you are better able to explain events for them. This film is a perfect introduction to the concept of death and the afterlife; however, it is even better at helping kids understand the value of life and how to enjoy it.
You can watch Disney's Soul on Disney+.
Originally posted on January 5, 2021 @ 6:55 am