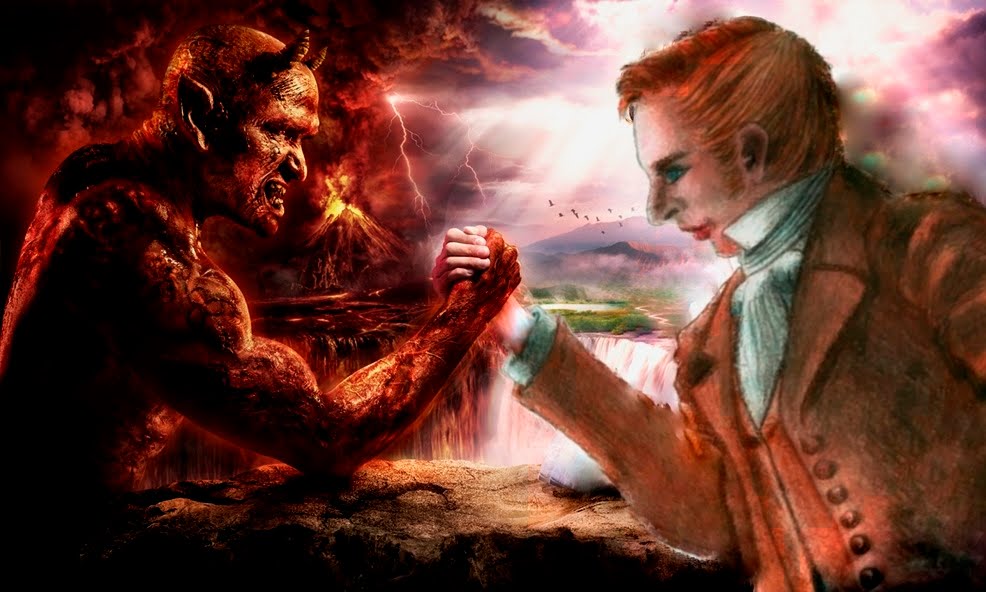 Lucifer
I won't listen to you I was wrong
In your realm I don't belong
Spare me the shame, let me go
I take myself to the earth below
God
It doesn't have to be like this
You belong with me here
Stay with me in this bliss
Here I am, to you, near
Lucifer
I can't bare this torment
And I will not repent
I love what you created
I wish I never existed
God
Calm down my son and rest
I am your father now and forever
You will always bear my divine crest
Quiet down and be more clever
Lucifer
How can you be so merciful
When I was so vengeful
This surely is one of your tricks
Preceding your angry kicks
God
I am not evil nor want revenge
I am at ease and love all there is
There is no harm I need to avenge
My child, there is no quiz
Lucifer
Spare me your lies and deceits
I don't want any of your treats
You knew it was coming to this end
Why won't you comprehend?
God
I understand your motives my dear child
And I can feel your pain and grief
You were created free and wild
And this brings me great relief
Lucifer
You only think of yourself not us
Everything was created thus
To suit your fun and pleasure
But never our leisure
God
I am you and you are me
You are one with all that exists
You were created true and free
Don't throw yourself in the abyss
Lucifer
I cannot take your mind games more
You're whom I used to adore
But now I see your thoughtless greed
Who are you trying to mislead?
God
Though you are free and have a mind
I advise you to think with your heart
There you will really find
That we are never ever apart
Lucifer
Stop your meaningless ramble
I have to go after this gamble
I can't stand you anymore
You've become all I abhor
God
I cannot force you to understand
Nor will I make you stay
You are free and never banned
From this heaven you betray
Lucifer
You accuse me of evil betrayal
While it's you who created all
How can I betray my feelings?
Those you planted under my wings
God
It's true I let you come to this
I planted these feelings in you
I bid you farewell with a kiss
Planted on your heart beating true
Lucifer
So you admit your evil deceit
I will bring you to your defeat
You created toys not souls
To accomplish your lusty goals
God
I will not try to prove myself
You may believe whatever you please
I give you the gift of life itself
For your needs to appease
Lucifer
I don't need you to give me anything
I will name myself the earthly king
I will rule your creatures with fairness
With no need for your awareness
God
You may do whatever you see fit
Earth is yours, use it well
I will not interfere any bit
Unless you lose your way for hell
Lucifer
I will do a better job than you
For I know what is right and true
It's you who lost your way
And you're leading us all astray
God
Good luck in all your endeavors
I bless all that you will try to do
May you find joy with earthly peoples
Though I doubt it will satisfy you
Lucifer
I am not looking, like you, for satisfaction
It is with selflessness that I take this action
I will set straight where you were mistaken
When I go to the land by you forsaken
God
When you go to earth, do not forget
That I am here whenever you require
Just open your heart and don't fret
Know that you, I will always admire
Lucifer
Good bye my creator and spare me lies
I thought you'd see and that you were wise
But now I know that I'm alone
And that from heaven I am thrown
And with this Lucifer broke free
From the heaven of love and bliss
And on earth he went amiss
As he saw the forbidden tree
Originally posted on April 16, 2020 @ 5:52 am