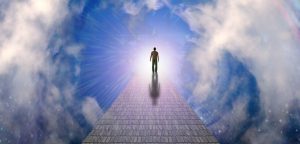 If death were to knock my door tomorrow
Would I leave a trail of dreadful sorrow
Filled with regret, confusion and pain
And pursuits which were extremely vain?
If I were to leave this mortal world
Would I leave affairs twisted and curled
Complicated, hard and mysterious
And yet so very serious?
If I were to say goodbye
To those who really cared
Would they realize it's my time to fly
Or are they still not yet prepared?
Would they know that I've passed on
And that this world to me is gone
Or would they cry my departure
And their hearts for me rupture
Did I leave missions unresolved
For my heirs to go through?
Did I get many involved
In what I thought was true?
Do I have more work to finish?
Do I have fears left to vanquish?
Should I prepare them for this
Before death administers the final kiss?
The last goodbye I should now prepare
To those with whom life I did share
To ready them for my ultimate flight
Which is a true source of might
For in my absence they will grow
And more truths they will know
Though alone now at last
After a journey which is now a past
Originally posted on April 16, 2020 @ 5:47 am