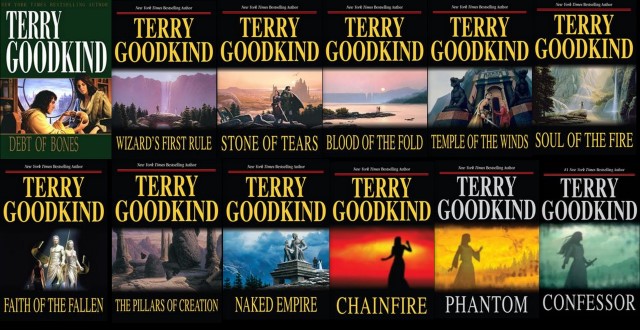 What happens when you cross excellent character development, a great story line, deep insights and a good writing style? That's right, you get Sword of Truth by Terry Goodkind.
In this series, we meet Richard, a very righteous and humble woodsman who discovers that he's the Seeker. A person of legend who is the only one able to truly wield the sword of truth and set things right in the world. The other two notable characters are Kahlan, the mother confessor whose touch, if she releases her power, can render any person completely in love with her so as to become her slave, and Zed, the first wizard who is a quirky and lovable old man with great power and wisdom.
Disregarding the characters and the plot, the greatest thing about the Sword of Truth series are the insights which are called Wizard Rules. Each book revolves around one of these rules as Richard learns it and applies it in solving the next big problem. However, the Wizard Rules are not just fiction; on the contrary, they are ideas that we can apply in our daily lives.


While reading Sword of Truth, something starts to happen to you as you measure your daily actions against those of Richard. For those of you who enjoy series which last a very long time and actually teach you something, Sword of Truth is an absolute must read! In addition to that, you can also check out the Legend of the Seeker TV series which is loosely based on the novels.
Originally posted on October 4, 2020 @ 11:12 am