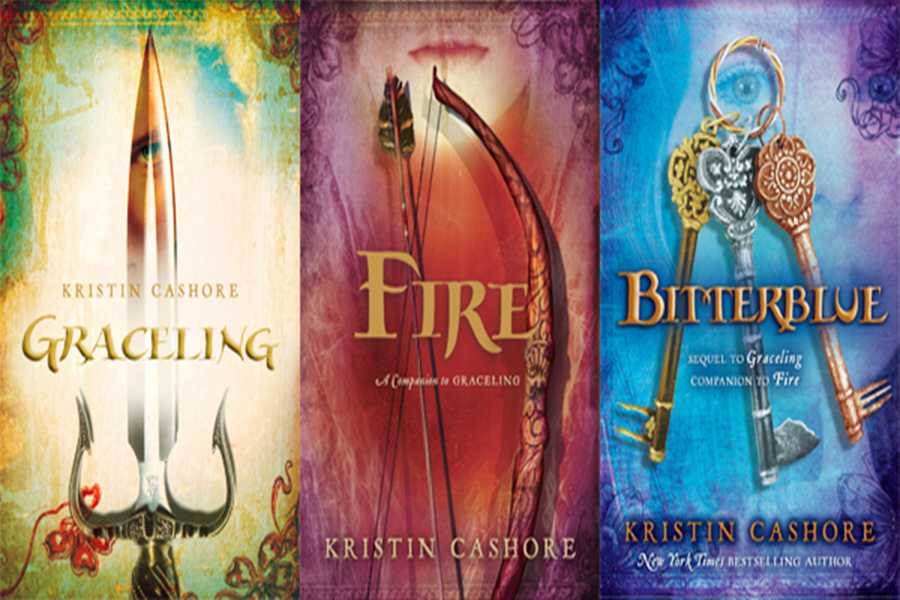 Being perhaps one of the most "disjointed" series I've ever read, Graceling Realm made of three books "Graceling", "Fire" and "Bitterblue", is nevertheless a nice read.
I call it disjointed due to the fact that whether you read Graceling or Fire first, the story still makes normal sense because each of these two books is set in a different realm with only one person in common: Leck, the evil influence in the Dells turned evil king in Monsea.
In summary, the Graceling realm series is set in a world divided by a mountain which was usually unpassable except in rare circumstances. In one part of the kingdom, there are seven kingdoms in which Gracelings live. Gracelings are supernaturally endowed people with differently colored eyes. On the other hand, in the other kingdom we have the Monsters, creatures who are upgraded copies of normal humans or animals but who are vividly and beautifully colored and are mesmerising to humans on whom they prey. Human monsters also possess the ability to invade people's minds and control them.
In the Graceling Realm trilogy, we have four main characters and a host of secondary ones. The main characters we meet in Graceling are Katsa, a graceling endowed with killing and surviving skills, and Prince Po, who comes off as endowed with fighting skills but turns out to have a more secret power. In Fire, we meet the monster called Lady Fire whose father was controlling the previous king and ruined the kingdom. However, unlike her father, she does not want to use her power to control people, but to confort them. As for in the last book, we meet Bitterblue, king Leck's daughter who inherits the kingdom after his demise and discovers all the problems he created and left behind.
In the first two books, our main characters are dealing with Leck, a graceling who has the power to control people's thoughts and actions simply by speaking to them. He clouds their minds, makes them think good thoughts about him and then makes them do his bidding, which is always nefarious in nature. In the last book, we are left with Queen Bitterblue, King Leck's daughter who is left to deal with the aftermath of her father's deeds.
All in all, Graceling Realm is perhaps not one of my favorite series, but it remains well written and very creative.
Originally posted on September 21, 2020 @ 10:05 am